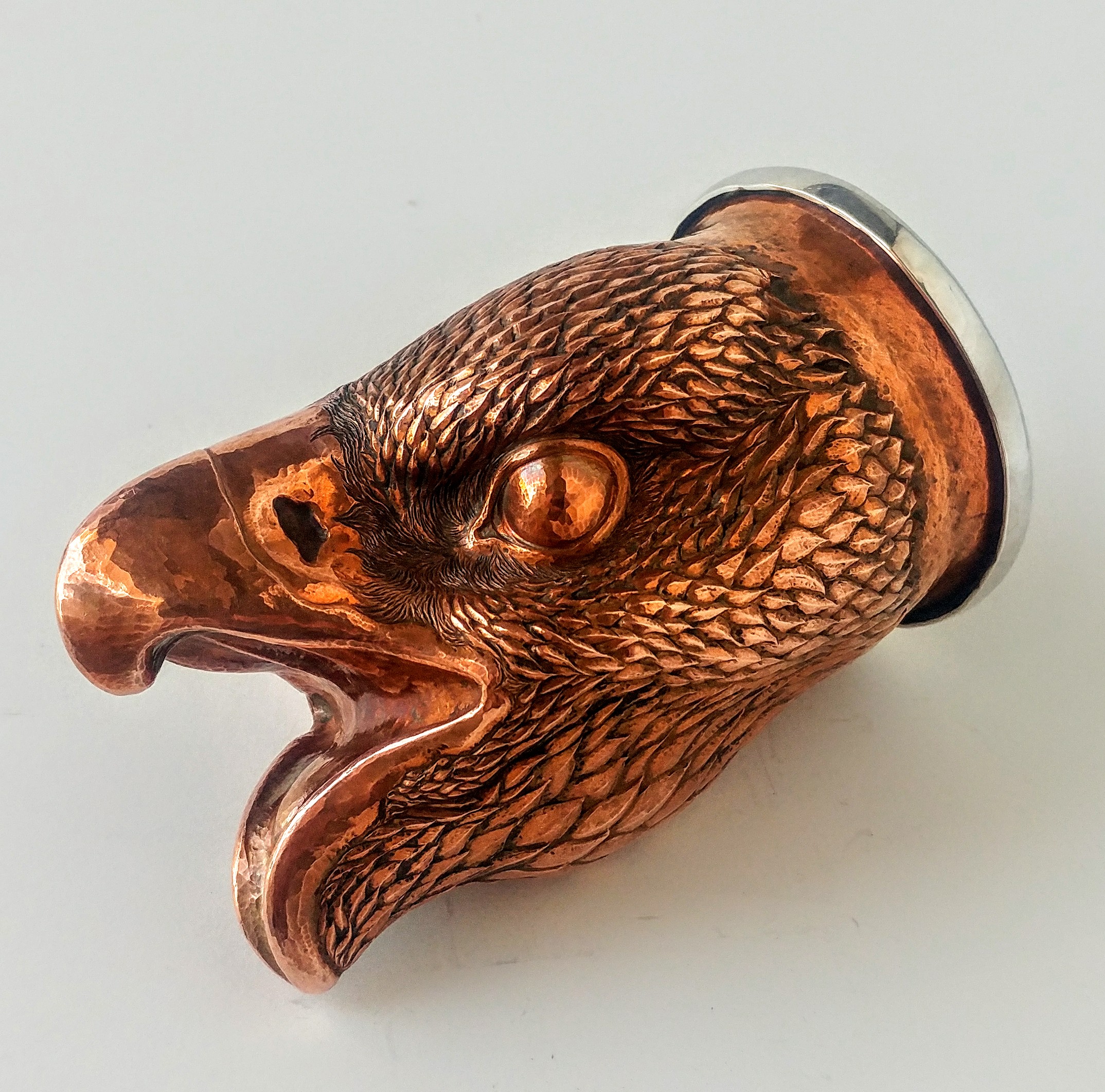 Raptor Rhyton
This is one of the most special and most difficult vessels I've ever made. The pure copper eagles head is hand raised and chased from a single piece of 1mm copper. To transform a flat sheet of metal into the sculpture of an eagles head with an open beak I have needed to practice a new style of raising that starts pushing the metal from it's perimeter toward the interior. Thus we can preserve the coppers original thickness for chasing the details with chisels. To reach this depth and complexity I needed to take the copper through 56 annealing cycles (where we heat to metal to soften it) to slowly bring the metal where I need it so it would not fail during chasing. I also supplemented some of the raising passes with raising over pitch instead of shaping stakes, thus allowing the metal to move with out the pinching or stress of a lever such as a raising stake can become.

Lastly the vessel liner is made of a single piece of 1mm sterling silver (6.21 troy ounces). This was hand raised to a perfect fit within the eagle head making the two vessels as one. The sterling silver went through an additional 18 anneals to reach it's final shape and finish. The dimensions of the the silver vessel are approx the same size as a standard wine glass (2.5inches wide by 3inches deep).

I was inspired to make rhytons after touring the MET and seeing some of it's collections of silver and gold vessels from history. I can very safely say there is no other vessel like this rhyton in the world.
I find absolute joy in vessel making, and it is my hope that the passion of this work shines through this piece.
A vessel worthy of you is one you don't want to put down. A vessel designed as much for your hands to explore as your eyes to loose themselves in every loving detail.


If you are interested in the methods of making a vessel like this I had the good fortune to film most of the creation of this piece. Hours and hours of footage for the chasing of this Raptor Rhyton can be found on Patreon.com/douglaspryor
For inquiries or other questions relating to this piece please contact me at PryorcreationsLLC@gmail.com